Rock Solid Fitness is a one-on-one personal training studio in Dunedin Florida.  Since opening in 2012, we have experienced exponential growth every year, and in 2016 we were forced to move to a bigger location to support our growth.  We expect our company to continue to grow, and have an exciting vision for our future.
At Rock Solid Fitness, we have brought together a talented, fun, hard-working team who care about people, practice and teach proper exercise, and strive to learn, grow and get better every day.
We are looking to add like-minded individuals to our team who share our Core Values.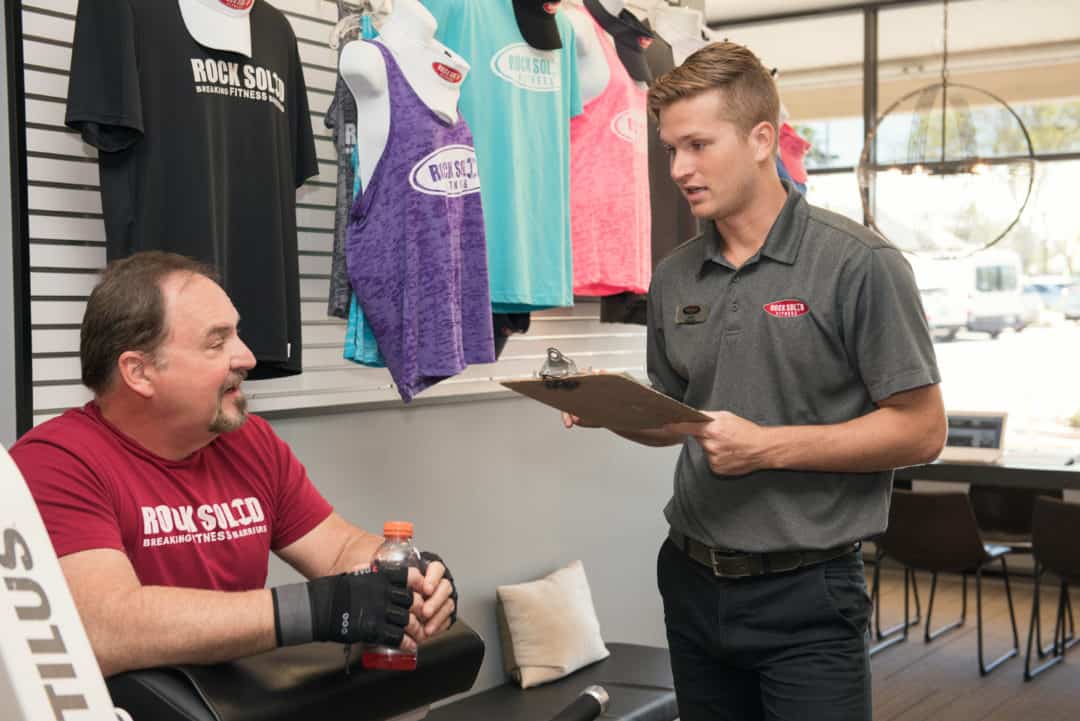 We create relationships and use skills that support friendship, trust, caring and compassion. Our team has fun both in and out of work.
We firmly adhere to a high ethical and moral code. We do the right thing even when no one is looking, even though there may be negative side effects.
We are always aiming for a win-win situation in all conflict resolution, policies and procedures. This happens when each party benefits in some way.
We are committed to our: niche, core values, culture, clients, teammates, health, fitness and the Rock Solid Fitness mission, no matter what! First and foremost, all team members will have 100% buy-in and an unwavering commitment to our niche, High Intensity Training Methodology. We are hard working and do whatever is necessary to reach our goals, encourage our clients and get the job done. We are a Rock Solid team and pride ourselves on being a place people love to work!
We continuously seek personal and professional development through educating ourselves and our clients.  Be more uncomfortable with the status quo than the prospect of change. No matter how things go, we always finish strong.  We favor a Growth Mindset, based on the belief that your basic qualities are things you can cultivate through your efforts, your strategies, and help from others; as opposed to a Fixed Mindset, which means believing that your qualities are carved in stone.
Many people think that in order to be fit you need to be a fitness fanatic. At Rock Solid Fitness we believe human beings are not perfect in their nature, nor should they strive to be.  We believe in:
(1) Training Right – Safe, efficient productive exercise
(2) Eating Right – Eat whole nutritious foods
(3) Resting Right – Getting a minimum of 8 hours of sleep every night
(4) Living Right – Managing our stress, having healthy relationships, being part of a community.
Responsible for leading, instructing, and motivating individuals and groups of diverse clients in exercise activities, including strength training, cardiovascular conditioning, and stretching.
KNOWLEDGE AND EXPERIENCE REQUIRED:
Associate's Degree in Exercise Science with Anatomy & Physiology I and II with Lab, required
Bachelor's Degree in Exercise Science with Anatomy & Physiology I and II with Lab, preferred
Learn and become proficient in all Rock Solid Fitness systems
Experience with Microsoft Outlook, Word, and Excel 2010
Responsible for maintaining day-to-day administrative, clerical, data entry, scheduling, payment and client matters.
KNOWLEDGE AND EXPERIENCE REQUIRED:
High school diploma or general equivalency degree (GED), required
Experience with Microsoft Outlook, Word, and Excel 2010
Experience with MailChimp and Online Scheduling Software preferred