Here in Florida, golf is a year-round activity.  People travel from all over the world to play on the fine courses we have here.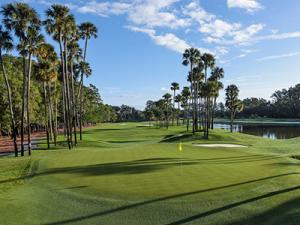 When designing effective golf workouts, there's a few key points to consider.  First, what kind of training program will give you the greatest benefit for the time and effort you are going to invest?  Next, decreasing the likelihood and severity of injuries, so you can really enjoy the game you love for a long time to come.  And finally, incorporating exercises to maximize performance for a great score.
So as we design this golf workout, there's a few criteria we want to make sure we fulfill:
Full Body Workouts
This is not a problem at Rock Solid Fitness, since we have all of our clients train perform full body workouts twice a week, each one taking only 30 minutes.
Injury Prevention
We want to include exercises in your golf workouts to strengthen areas of the body that are especially vulnerable to common golf injuries.  These include the muscles surrounding the spine in the low back, and rotator cuff muscles of the shoulders.
For the low back, we will include our Nautilus low back extension machine, which isolates the muscles reinforcing the lumbar spine.
For the shoulders, we'll strengthen the rotator cuff muscles, using manual resistance.
Maximize Performance
We would love to select golf exercises that will maximize your performance on the course.  That could mean being able to grip the club more securely, hit your longest golf drive, or get out of sand traps or roughs.
This will mean:
You'll be doing overhead pulling movements for your back, arms and grip.  We'll also include lateral hip movements for driving power, and our special torso rotation machine to maximize club head speed.
So make sure your golf workouts are full-body affairs, focusing on injury prevention and max performance.  Keep the intensity high, don't over-train, and you will be hitting your longest golf drive and wowing your golf buddies in no time!
To learn more about Rock Solid Fitness Golf Workouts, schedule a Free Fitness Consultation and Workout Experience

HERE