Hi, everyone! I'm Drew Carpenter, and I've been part of the Rock Solid Fitness community since 2013. When I first joined as an intern, I had no idea how much this gym would impact my life.
Over the years, I moved up the ranks, going from Client Services to Strength Training Coach and eventually Strength Training Coach Manager. I formed bonds with my colleagues and clients that went beyond the typical gym experience. For six years, I worked out exclusively at the Rock Solid Fitness strength training studio, where I felt like part of a family. 
But when I moved to Mexico for work, I had to say goodbye to my Rock Solid Fitness family and explore other fitness centers. The experience gave me a newfound perspective on what makes Rock Solid Fitness strength training Clearwater gym so special. 
I'm excited to share my honest reflections on leaving behind the place that was such an essential part of my strength training journey and my life, and how it has changed my approach to fitness.
How Cleanliness Impacts Your Gym Experience: Lessons from Rock Solid Fitness and Beyond
Walking into a new gym can be an eye-opening experience, and not always in a good way. The first thing that hits you is the cleanliness of the facility (or lack thereof). I've visited various strength training gyms, and I've seen everything from dirt and dust to sweat-stained equipment and rusted machines. 
If you're really observant and have experience cleaning fitness and strength training equipment, you'll notice other issues, too. For instance, guide rods that haven't been lubricated properly or belts on machines that have been worn down.
Cleanliness is an essential aspect of any gym, and I've learned to appreciate it more since leaving my previous gym, Rock Solid Fitness. While I'm no longer able to work out there since I moved out of the country, I'm extremely grateful for my Rock Solid Fitness experience because it taught me the importance of having a clean gym environment.
Quality Over Quantity: How Choosing the Right Strength Training Machines Can Boost Your Fitness Journey
One thing that I'm particularly attuned to when I visit other gyms is the quality of the strength training machines – and all of the gym equipment. Working at Rock Solid Fitness, I learned about the benefits of using machines over other forms of weight lifting, and especially the advantage of using high-quality machines. 
When you're familiar with the intricacies of how a strength training machine should function and how it should feel throughout the range of motion, you quickly realize how many machines fall short. At some commercial gyms, it feels like they've simply thrown together whatever equipment they could find without considering the user experience. 
But at Rock Solid Fitness, every machine is carefully chosen and maintained to provide the best possible strength training workout. As such, I learned the right equipment can make all the difference in reaching your fitness goals.
The Importance of Having the Right Equipment for Strength Training: Lessons Learned from My Days Rock Solid Fitness
One of the most frustrating things I've encountered at other gyms is not having the necessary equipment for strength training or for doing a specific exercise. I've lost count of how many times I've searched for a pullover machine and come up empty-handed. It seems like every strength training gym I've visited since leaving Rock Solid Fitness in Clearwater just doesn't have what I need. 
Even worse, I've been to gyms that have all of the equipment I need, but more often than not, these strength training machines are in use by someone else. It can be incredibly discouraging when you're trying to make progress toward your strength training goals but feel like you're being held back by your gym's limitations. 
That's another reason I treasure my experience at Rock Solid Fitness, where I had access to the equipment I needed and never had to worry about it being available.
The Power of a Strength Training Coach: How Having Someone to Push You Can Make All the Difference in Your Fitness Journey
When it comes to working out, there's more to it than just the physical environment. It's also about the energy and intensity that you feel during your workout. Personally, I've found I lack that intensity when I work out alone, without the guidance of a fitness coach.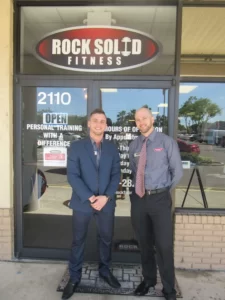 In all my years of working out alone at various gyms, I can honestly say I've never left a workout feeling like I gave it my all. Whether it's because I stop mid-exercise due to safety concerns or simply because I mentally give up before reaching my physical limits, there's just something missing when I don't have someone pushing me to go further. 
It's true what they say – sometimes you don't realize how much you need something until it's gone. At Rock Solid Fitness, I had the support and motivation of a team of strength training coaches who not only pushed me to be my best self but genuinely cared about me and my well-being. They were more than just coaches; they were a support system that helped me achieve my fitness goals.
And now that I'm working out on my own, I understand just how valuable that support system really was.
Final Thoughts: The Lasting Impact of Rock Solid Fitness on My Strength Training Journey
Leaving Rock Solid Fitness in Clearwater and exploring other gyms has taught me valuable lessons I would never have learned otherwise. From the importance of cleanliness to the impact of having the right equipment and the value of having a strength training coach, these lessons have transformed the way I approach fitness. 
More than that, they've made me appreciate the Rock Solid Fitness strength training gym family even more. While I may not be able to work out there anymore, the experiences I had and the lessons I learned will stay with me forever. I hope that my reflections have provided you with insight into the power of the right gym environment and how it can impact your fitness journey.
Remember, the right gym environment can make all the difference in reaching your fitness goals.